Refrigerator Cleaning
Now the refrigerator is the largest appliance in the kitchen and also one of the most important. Its purpose is to keep the food that is stored in it safe and germ free until it's ready to be used.
However, it does not stop the growth of bacteria. So it is very important to keep your refrigerator clean so that your food remains safe for you and your family to consume.
Lets get started on refrigerator cleaning...
To start refrigerator cleaning you should first turn down your thermostat, unplug the refrigerator and remove the bulb inside (to avoid its being damaged).
The next in refrigerator cleaning is to remove the food and store it in a cooler or a second refrigerator (if you have another).
Now that the refrigerator is empty, remove the trays and draws and clean them at the kitchen sink using a rag or sponge with an effective cleaner.
It's time to tackle the inside of the refrigerator.
With a different rag (sponge), and your chosen cleaner in warm water solution clean out the inside of your refrigerator until you are satisfied that its clean. Be sure to pay extra attention to the grooves from where the trays and the draws were removed.
When you are satisfied that the inside of the refrigerator is clean, rinse it out with warm water and a clean rag. Then dry.
Now clean the refrigerator door, (on my door there's always a sticky mess to clean). When you're finished rinse and dry with paper towels or a dry rag.
Please note that if your refrigerator does not self defrost, you should allow it to defrost before you start refrigerator cleaning.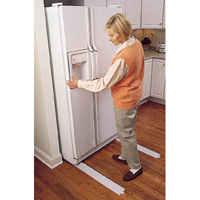 When you finish cleaning below and behind the refrigerator, clean the sides and the top of it, then glide it back against the wall. Now it is time to replace the clean trays and drawers, screw the bulb back in and plug in the refrigerator. Turn the thermostat back up.
After about an hour, return the food to the refrigerator.
Clean
:
Kitchen
: Refrigerator Cleaning
Mar 07, 20 03:09 AM

It sometimes feel like there is never enough time to get the house cleaning done. Here are 12 time management tips to help you find the time.

Mar 02, 20 01:26 AM

Sometimes you just need a little bit of motivation to get started and finish cleaning your home. Here are 5 tips to get you motivated.

Dec 28, 19 06:18 AM

Get great ideas on how to declutter your home so you can stop hoarding for the future and let go of the past.